"The extinction of the passenger pigeon was the original sin from which emerged the American Conservation Movement. The film combines a compelling cautionary tale with innovative cinematography to tell a tale that, with luck, we will never witness again in our lifetime. Its tragic narrative is sure to move environmentalists, students, and any American who appreciates our nation's natural treasures."


Mark Madison, Ph.D., National Historian, U.S. Fish and Wildlife Service




Institutional/Organizational Use DVD

Licensed for classroom, community, library and business use.
(limited PPR)
Get prices and information from The Video Project.

Home Use DVD - DOMESTIC U.S. (NOT INCLUDING CANADA)

DVDs FOR HOME USE may be screened in private homes only. This does not include Public Performance Rights and screening a HOME USE DVD for an audience is illegal.


($19.95 plus $4.00 shipping and handling)

Home Use DVD - CANADA & INTERNATIONAL

Licensed for personal home use ONLY.


($19.95 plus $13.00 shipping and handling)



DVD 58 min. Scene Selection &nbsp In addition to the film, the DVD contains the following Special Features: Behind the Scenes: A Bird's Eye View, The Sound of Billions; Making "Pigeon Pie." Deleted Scene: Warren Woods. Extras: A Special Specimen, From Chikagou to Chicago, Prairie Tours with Joel.

For public viewings, a public screening license is required.
Please Contact Waubansee Productions to inquire about public viewing rights or with any questions.

Note: The DVD is NTSC format, but will play in all countries as long as your DVD player is NTSC compatible. Many players can now play both NTSC and PAL, please check your player if you live outside of the U.S. before ordering.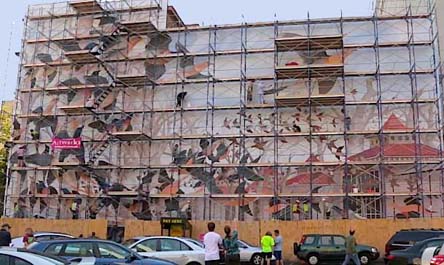 In 2013, artists in Cincinnati, Ohio completed a six-story mural of artist John Ruthven's painting depicting Martha and her flock.